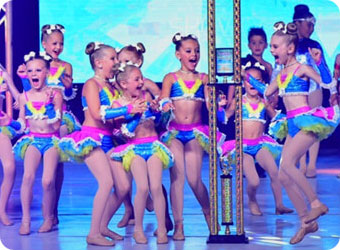 Before the competition...
Q: Where is the exact location of the competition?
A: Go to our Schedule Page and click on your competition city to find the address and detailed map of the venue location.
Q: Where can I find my dancer's performance schedule?
Tentative schedules will be sent to your Studio Director a week prior to your competition. Upon arrival to the competition, you may purchase a souvenir program or download a free digital souvenir program at http://rainbowdance.com/digital-souvenir.
Q: When do I need to arrive at the competition?
A: Please ask your Studio Director to find out when you need to arrive at the competition. Because we tend to run early, we ask that all performers be ready to dance at least one hour prior to their scheduled time. Anyone in the audience hoping to watch a particular dancer should be there one hour ahead of schedule as well.
Q: My dancer is one of the first performances of the day. When am I allowed to enter the venue?
A: The venue doors will open 30 minutes prior to the start of competition each morning.
Q: My family wants to come watch the competition. Is it free to watch?
A: Yes. All competitions are open to the public.
Q: Is videotaping/taking photographs allowed at the competition?
A: Videotaping and photography are strictly prohibited during performances. You may take photos or videos during the awards ceremonies only. Each performance is professionally filmed and photographed by our talented staff. Participants can preview or purchase digital videos or digital photos of their performance at the Media Center, located in the lobby at the event.
---
During the competition...
Q: How can I find out if the competition is running on schedule?
A: You can download our Rainbow App on your cellular device, which provides a live update of the event.
Q: How do I enter my dancer into the Photogenic or Dancer of the Year division?
Upon arrival at the competition, simply visit our Merchandise booth to register with our friendly staff. Please make sure to enter the Photogenic competition before the Most Photogenic award is presented. Check the detailed awards schedule in the front of the souvenir program for that event. Be sure to register for Dancer of the Year before your dancer's scheduled performance.
Q: Is outside food and drink allowed at the competition?
A: Absolutely no food or drinks are allowed in the auditorium. Eating and drinking is permitted only in the designated areas. Please dispose of your trash and do not litter the facility.
Q: Can I store props in the venue overnight?
A: All props must be loaded in and out of the venue on the same day they will be used. Storing props in the wings or backstage area is not allowed. Any special request for the use of props must be approved by the Competition Director. Rainbow will not be responsible for props left overnight or unattended. All props backstage must be labeled with the studio name for identification purposes.
Q: Is it mandatory to attend the awards ceremonies?
A: Awards ceremonies are not mandatory but highly encouraged. Please make prior arrangements with your Studio Director to receive your dancer's awards if you are unable to attend.
---
After the competition...
Q: I forgot to order a video or a photograph. Who do I contact?
A: You can place an order and preview photos and videos on our Media Center website. Click Here
Q: My son/daughter won a cash award. What do I do now?
A: All cash awards will be issued to the studio. Please contact your Studio Director.
Q: Where can I get my dancer's scoresheets and judge's commentary?
A: Scoresheets and judge's commentary will be sent to the studio. Please contact your Studio Director.
Q: My dancer was selected for an All Stars award. Where can I find more information?
A: Congratulations on your dancer's accomplishment! Rainbow is proud to offer several exciting opportunities outside of the competition circuit. You can find more information at the websites below:
Q: How do I order a trophy or emblem?
A: Please call our office.
Q: How can I contact your office?
Rainbow Dance Competition, Inc.
10794 Los Vaqueros Cir
Los Alamitos, CA 90720
Phone: 714-995-5883 | Fax: 714-826-2117
Email: Contact