As a leader in the industry for the past 20 years, Rainbow National Dance Competition is thrilled to begin a new and exciting season! With our exceptional events and impeccable service, we are looking forward to welcoming you to the family!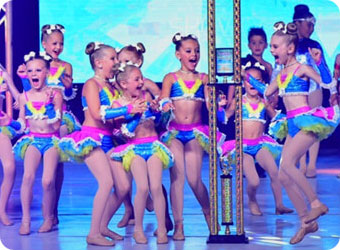 When it comes to competitions and conventions, we understand that there are many to choose from and here at Rainbow we are committed to providing our competitors with the best experience possible! We take pride in offering an elite panel of judges who are committed to sharing their extensive knowledge, professional production values, digital online critiques, an enthusiastic and caring staff, and additional opportunities through scholarships, auditions, and exclusive performance opportunities that reach far beyond the competition weekend.
Rainbow has been called "the competition with a heart" for a good reason. Rainbow has never lost sight of the fact that its success is owed to the hard working teachers and studio owners that appreciate a fair, fun, organized, and on-time competition. From its low-stress environment, unique awards, three levels of competition, online registration, and state of the art judging and scoring, Rainbow aspires to deliver a quality event to dancers, directors, teachers and parents alike.
Our unique awards offer much more than just a placement score. From the Al Gilbert Award for tap excellence to our prestigious Dancer of the Year, Rainbow looks to give our hard-working dancers and teachers their much deserved recognition at each competition. We also invest in our students continuing education, offering outside opportunities in the dance community. Each year, several Rainbow contestants are selected as "All Star Dancers" and receive an invitation to attend the New York City Dance Experience. These All-Stars travel to New York City for a one-of-a-kind event where they attend a series of master classes, meet and study with the world-famous Rockettes, see Broadway shows, and of course, tour the city's most popular attractions. Rainbow also awards scholarships for students to participate in the popular KAR Dance Convention at each regional and national event.
We are excited to continue our official sponsorship of the Industry Dance Awards and Benefit Show. At each Regional awards are given to the highest overall scoring Elite Starz Groups and Lines from the 12 and Over Age Divisions in 6 Outstanding Performance Awards Categories. This amazing awards show proudly raises cancer awareness and inspires the generosity of the dance community to come together for a worthy cause.
We are thankful to be able to offer a memorable performance opportunity for dancers to showcase their talent and accomplishments in front of industry leaders and their loved ones. Rainbow prides itself on creating an ambiance where studio owners, teachers, students and parents will thrive. Nurturing our youth in the competitive field of dance takes effective communication, organization, and a supportive atmosphere. Rainbow has a reputation of creating that positive environment for dancers of all levels. We look forward to seeing you in 2019 so we may be a part of YOUR dancer's personal journey toward greatness!
Amber Anthony-Sandoval
President